Dr. Schallock uses Banner Desert Medical Center  for all deliveries in our practice.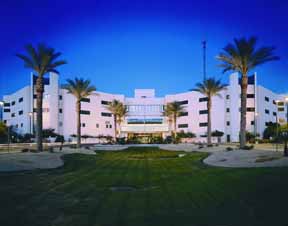 Banner Desert Medical Center is a 549-bed, nonprofit facility, providing a wide range of inpatient and outpatient services. The hospital is a flagship of Banner Health and is one of the largest and most comprehensive in the state of Arizona.
With its many specialty services, Banner Desert serves as a tertiary referral center for the East Valley of metropolitan Phoenix. Areas of excellence include high risk pregnancy and neonatal care, obstetrics and gynecology, pediatrics, cardiology, oncology and emergency medicine. At Banner Desert we provide acute care, pulmonary medicine, renal disease, robotic and minimally-invasive surgery, rehabilitation and many more services.
Home-like Comfort
From the moment you arrive at Banner Desert Medical Center, your comfort is a top priority. They offer private Labor, Delivery and Recovery rooms in home-like settings that allow women to stay in the same room during the birthing experience.
During labor and delivery, they offer many relaxing therapies such as music, massage and aromatherapy. After delivery, mom and baby are settled together into a cozy room, which includes a comfy recliner for dad's overnight stay. Visiting hours are flexible so families can share in the happy occasion. If a relaxing massage or facial sounds like bliss, you can call the Oasis Spa for an added touch of luxury.
Banner Desert also provides a dedicated inpatient unit just for pregnancies.  The unit offers special care for women with pre-term labor, multiple births and other needs.
They also offer a full complement of childbirth and parenting classes and support available, including counseling and support for breastfeeding.